Oops... Looks like you're on mobile or flash is not enabled
We're trying to get some mobile games up and running, but unfortunately our flash games don't work on phone or tablet. How about some hilarious science jokes instead?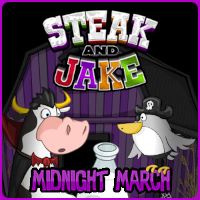 Steak & Jake Midnight March
Help Steak and Jake guide the marching Ghouls along the trail this Halloween! Multi-task in this puzzle platformer game, with Jake the color-changing bird matching colors in the puzzle screen, while clearing the trail above for Steak and the Ghouls.
How to Play
Follow the in-game instructions.