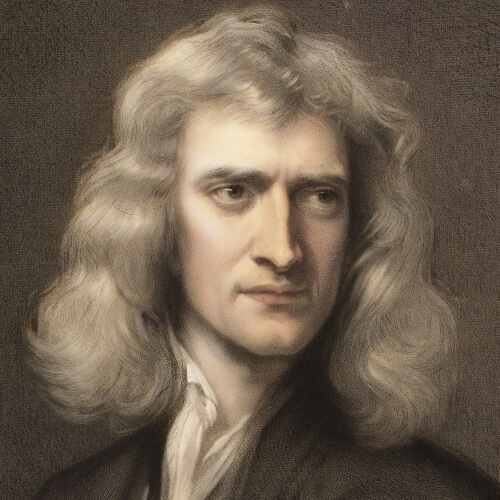 Who Was Isaac Newton?
Sir Isaac Newton (4 January 1643 – 31 March 1727) was a British mathematician, physicist, and astronomer who is widely recognized as one of the most influential scientists in history. He is known for his groundbreaking work on gravity and his laws of motion, which laid the foundation for modern physics.
Newton's Early Life
Newton was born in 1643 in Woolsthorpe, England. His father passed away before he was born, and his mother remarried when he was young, leaving him in the care of his grandmother. Newton was a solitary child who showed an early interest in mechanics and math.
At age 18, Newton enrolled at Trinity College in Cambridge University, where he became truly fascinated with math and physics. Newton's years at Cambridge were not always easy, and he sometimes struggled with his studies. However, his dedication to his work paid off. By age 26, he had already made groundbreaking contributions to the fields of optics and calculus.
Newton's Contributions to Optics
One of Newton's most important contributions to science was his work on optics. In 1666, when Cambridge University was temporarily closed because of the Great Plague, Newton went back to his family home in Woolsthorpe. During this time he did a series of experiments with light, which eventually led to several discoveries.
Newton's experiments involved shining a beam of light through a glass prism, making the light bend and separate into its different colors. This is called dispersion, and it fascinated Newton. By carefully watching and experimenting, Newton figured out that white light is actually the combination of several different colors of light.
To prove his idea, Newton designed a special telescope that came to be known as the Newtonian telescope. It used a curved mirror to gather and concentrate light instead of a glass lens. This new design made images clearer and colors much more accurate than lenses at that time. This completely changed the way astronomers viewed and studied space, and is still the basis for many modern telescope designs.
Newtons' Laws of Motion and Gravity
In 1687, Newton published his most famous book, Philosophiæ Naturalis Principia Mathematica (Mathematical Principles of Natural Philosophy). This 680-page book explained Newton's discoveries of the laws of motion and the law of universal gravitation. In simple terms, it talked about how things move, forces, and the effects of gravity on Earth and in space.
Newton's laws of motion gave us a way to understand how objects behave on Earth and in space by using math. They became the basis for classical physics— known as mechanics—and helped scientists make more discoveries later on. The law of universal gravitation, in particular, changed how we see the world. It showed us the basic rules that control how planets, moons, and other things in space move around.
Newton's Legacy and Impact
Isaac Newton's contributions to science and math have had an enormous and long-lasting effect on the world. His laws of motion and the law of universal gravitation gave us a strong foundation for classical physics and had a huge influence on the development of other scientific fields. Newton's work opened doors for new discoveries in astronomy, engineering, and space exploration.
Not only that, but Newton's careful way of doing science and his focus on experiments and evidence set a standard for how scientists work even now. His work also played a major part in the Scientific Revolution, which challenged old ideas and sparked a whole new era of scientific exploration and learning.
Newton's amazing achievements earned him lots of praise and recognition while he was alive. He was even elected President of the Royal Society in 1703. Today, he is seen as a really important figure in the history of science. People admire his genius and the big impact he had on our understanding of the world around us.