Oops... Looks like you're on mobile or flash is not enabled
We're trying to get some mobile games up and running, but unfortunately our flash games don't work on phone or tablet. How about some hilarious science jokes instead?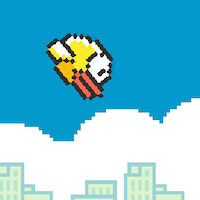 Clumsy Bird
Ellison Leão
A dragon has stolen Clumsy Bird's egg and he's on a mission to get it back. Help your feathered friend take to and navigate the skies, journeying as far as you can to earn the highest score. Keep your wits about you as you dodge pipes, trees, and other hazards, and remember, hitting just one brings your journey to an end!
How to Play
Left click on desktop or tap on mobile to flap Clumsy Bird's wings and fly upwards.