Oops... Looks like you're on mobile or flash is not enabled
We're trying to get some mobile games up and running, but unfortunately our flash games don't work on phone or tablet. How about some hilarious science jokes instead?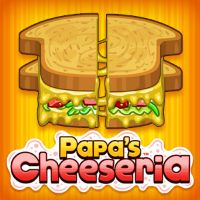 Papa's Cheeseria
Flipline Studios
Build delicious grilled cheese sandwiches and pile on the fries at Papa's Cheeseria! Customers can choose from a wide variety of breads, cheeses, toppings, and sauces for their sandwiches, and you'll unlock more as you play! Create the gourmet grilled sandwiches, cook them on the grill, and serve them up with a heaping pile of fries. Unlock 40 brand-new unique Special Recipes, and choose one to serve as the Daily Special each day in the restaurant, which also earns you special rewards!
How to Play
Follow the in-game instructions.