Oops... Looks like you're on mobile or flash is not enabled
We're trying to get some mobile games up and running, but unfortunately our flash games don't work on phone or tablet. How about some hilarious science jokes instead?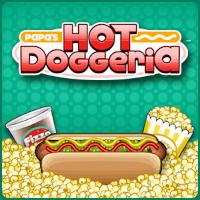 Papa's Hotdoggeria
Flipline Studios
It's opening day at Griller Stadium but the season tickets are all sold out! Looks like the only way to watch the games is to work for your old pal Papa Louie. You'll need to take orders, grill hot dogs, add toppings, and serve the best hot dogs in town. You'll also have to pop popcorn, pour drinks, and make sure your customers are happy. As you earn money and tips, you can upgrade your equipment and decorate your stand. You can also unlock new customers, ingredients, and mini-games. Can you handle the heat?
Papa's Hotdoggeria is another fun and addictive game from the Papa Louie series. If you enjoyed the previous games, such as Papa's Pizzeria, Papa's Burgeria, and Papa's Freezeria, you will love Papa's Hotdoggeria. It has the same gameplay and features, but with a new twist. You can also customize your character and choose from different outfits and accessories. You can also play with your friends online and see who has the best hot dog stand. So what are you waiting for? Grab your apron and start cooking in Papa's Hotdoggeria today!
How to Play
Follow the in-game instructions.