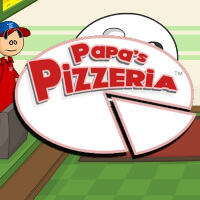 Papa's Pizzeria
Flipline Studios
Step into the shoes of a skilled pizza chef and take on the exciting challenge of running Papa's Pizzeria. With the help of Ruffle, the Flash game emulator, you can now play this popular flash game for free in your web browser and experience the thrill of managing a bustling pizza parlor. After Papa's sudden departure, you're stuck running Papa's wildly popular pizza parlor—and thing are about to get messy! It's up to you to take customers' orders, select from and decorate with different toppings, bake your pizzas in Papa's pizza oven, and serve your creations to hungry customers.
Papa's Pizzeria starts off by guiding you through the fundamentals of customer service and pizza-making. As you progress through the levels, the game becomes more challenging and requires you to use your time management skills effectively. With an increasing number of customers and orders, you must prioritize the ones with the longest cooking time to ensure prompt and efficient service. As a multitasking master, you'll be able to juggle the orders and make your customers happy, earning you bigger tips and a good reputation.
One of the most unique features of Papa's Pizzeria is the book of returning customers, which contains their unique preferences and favorite toppings. By using this information, you can create personalized pizzas that will leave your customers craving more. With every new regular customer that you unlock, you'll have the opportunity to impress them with your culinary skills and create a loyal following for your pizzeria.
Papa's Pizzeria is an exhilarating game that will test your time management, multitasking, and pizza-making abilities. With an array of customization options, returning customers, and challenging gameplay, you'll have a blast managing your own pizza parlor. So, put on your chef's hat, roll up your sleeves, and get ready to satisfy your customers' cravings with delicious and perfectly crafted pizzas!
How to Play
Follow the in-game instructions.