Oops... Looks like you're on mobile or flash is not enabled
We're trying to get some mobile games up and running, but unfortunately our flash games don't work on phone or tablet. How about some hilarious science jokes instead?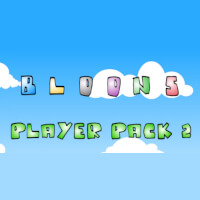 Bloons Player Pack 2
Ninja Kiwi
Welcome to Bloons Player Pack 2, another sequel to the popular Bloons series, where you'll continue your journey to pop all the balloons with a variety of tools and techniques. In this edition, you'll face new challenges, levels, and balloons to pop that will put your skills to the test. The game may look easy, but it takes strategy, precision, and quick reflexes to succeed.
With the same game mechanics as Bloons 2, your mission in the player pack is once again to pop all the balloons on each level using a limited number of darts. However, this time, all the levels are designed by players! Prepare to face off with even more difficult obstacles and challenges, such as moving targets and balloons that require multiple hits to pop. But don't worry, the game also offers new power-ups and upgrades to help you overcome these challenges and pop more balloons than ever before.
How to Play
Use your mouse pointer to aim your monkey's darts, click and drag for power, and release to throw.