Oops... Looks like you're on mobile or flash is not enabled
We're trying to get some mobile games up and running, but unfortunately our flash games don't work on phone or tablet. How about some hilarious science jokes instead?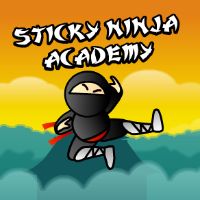 Sticky Ninja Academy
Think you have what it takes to be a sticky ninja? Cling, bounce, and karate-kick your way through this addicting and clever puzzle game.
How to Play
Click and drag from yinja to aim, then release to jump. Defeat all the enemies, then make it to the exit to complete each level. But pay attention: some surfaces are sticky, while others are bouncy!