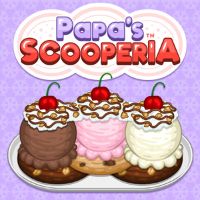 Papa's Scooperia
Flipline Studios
Your sightseeing trip to the big city is stopped short when you lose all of your money and belongings... Stuck in Oniontown without the money to return home, Papa Louie has a unique solution to your problem: Stay and run his brand-new ice cream shop! Using the power of Ruffle, the Flash game emulator, you can once again play this exciting game for free in your web browser and experience the thrill of creating delicious ice cream treats for your customers. As a new employee of Papa's Scooperia, you must take customers' orders, mix and match various ingredients, scoop the perfect ice cream, and serve your tasty creations to hungry patrons.
Just like in the original game from the Papa's series, Papa's Pizzeria, Papa's Scooperia starts off by guiding you through the basics of customer service and ice cream-making. However, as you progress through the levels, the game becomes more demanding and requires you to use your time management skills effectively. With an ever-growing number of customers and orders, you must prioritize the ones with longer prep time to ensure fast and efficient service. By doing so, you'll keep your customers happy, earn bigger tips, and gain a reputation for being a top-notch ice cream sundae specialist.
One of the most delicious aspects of Papa's Scooperia is the wide range of ingredients and toppings you can choose from to top your scoops of ice cream and create unique sundae masterpieces. Whether it's sprinkles, nuts, fruits, or sauces, the possibilities are endless. Additionally, with each new regular customer you unlock, you'll learn their preferences and favorite combinations. By taking note of this information, you'll be able to craft personalized sundaes that will leave your customers wanting more.
Papa's Scooperia is a thrilling game that puts your time management, multitasking, and ice cream-making skills to the test. With its diverse customization options, loyal returning customers, and challenging gameplay, you're sure to have a blast managing your very own ice cream parlor. So, grab your scoops and toppings, get creative, and make sure to satisfy the sweet tooth of every customer that walks through your door!
How to Play
Follow the in-game instructions.