Oops... Looks like you're on mobile or flash is not enabled
We're trying to get some mobile games up and running, but unfortunately our flash games don't work on phone or tablet. How about some hilarious science jokes instead?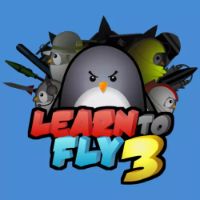 Learn to Fly 3
Light Bringer Games
In the 3rd and final chapter of the Learn to Fly trilogy, your accomplished penguin pilot is off to explore the final frontier. Gameplay builds on the success of the previous games in the series, with new features and improvements that add even more depth and challenges. Now, customize and upgrade your own rocket ship, which you'll use to fly higher and further than your penguin pal ever imagined before.
Build your spaceship from scratch, earn funds, and invest them into building a bigger, better spaceship as you try and fly your way up to space. In addition to the game modes from Learn to Fly and Learn to Fly 2, there's the addition of "Story" mode, where you'll follow the penguin's journey as he tries to fulfill his dream of flying. In Story mode, you'll complete a series of challenges and unlock new items to help your penguin reach new heights.
How to Play
Use the mouse to click and drag various items onto your penguin while creating your flying contraption. Use the left and right arrow keys to control your angle of flight and press/hold spacebar to activate rockets and special abilities. Collect money for boosters and upgrades by flying longer, faster, and farther and unlocking achievements.