Oops... Looks like you're on mobile or flash is not enabled
We're trying to get some mobile games up and running, but unfortunately our flash games don't work on phone or tablet. How about some hilarious science jokes instead?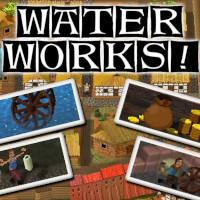 Waterworks!
Scriptwelder
Turn the taps and get ready to take control of the water supply in the medieval town of Grudziadz! Scripwelder's Waterworks is the ultimate test of your management skills. Your seemingly simple goal is to keep the town hydrated, but as you'll find out, supplying a bustling medieval town with H2O was anything but!
Waterworks is a card-based game; play cards to position your units for optimal efficiency, and keep your deck in top shape. Gather resources and hire workers to build a network of pipes and wells that would make a plumber proud. Put out fires, fulfill the ruler's requests, and keep your influence afloat to avoid a fall from grace.
As you play, be prepared to witness the town transform from a tiny village to a bustling city, all while learning about the mysteries of medieval water supply. And let's not forget about the beautiful soundtrack by Chris Carlone that will keep you relaxed and entertained. So, are you ready to take on the challenge? Tackle all 4 difficulty levels, come up with witty strategies, and collect all 10 achievements to become the water king or queen of Grudziadz!
How to Play
Follow the in-game instructions.