Oops... Looks like you're on mobile or flash is not enabled
We're trying to get some mobile games up and running, but unfortunately our flash games don't work on phone or tablet. How about some hilarious science jokes instead?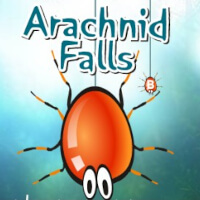 Arachnid Falls
Arachnid Falls is a game that combines typing and action. In this game, you have to stop the evil cherry-eating spiders from stealing the cherries on your ice cream. How? By typing the letters or words that appear on their backs. The faster you type, the faster you zap them. But be careful, the spiders will get faster and smarter as you progress. Don't let them reach the bottom of the screen or you will lose a cherry. What, don't you like cherries?
How to Play
Use the keyboard to type the letters and numbers on the spiders as they appear. Type "bomb" or "life" when you either of them written on a fly to get an extra bombs or life. Press the spacebar to use a bomb.