Oops... Looks like you're on mobile or flash is not enabled
We're trying to get some mobile games up and running, but unfortunately our flash games don't work on phone or tablet. How about some hilarious science jokes instead?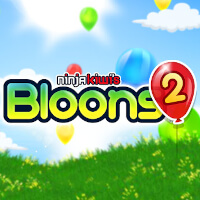 Bloons 2
Ninja Kiwi
Step into the whimsical world of Bloons 2, the 2nd game in the Bloons series, where you'll once again take on the role of a mischievous monkey with a penchant for popping balloons. With a seemingly endless supply of darts at your disposal, your mission is simple—pop as many balloons as you can to progress through each level. But don't let the cute and cuddly exterior fool you! Bloons 2 is a game that requires strategy, skill, and a sharp mind to conquer.
As you progress through the game's numerous levels, you'll encounter an array of obstacles and challenges that will keep you on your toes. From tricky placements of balloons to obstacles that block your shots, each level of Bloons 2 is designed to test your abilities and push you to your limits. But fear not, because the game also features power-ups that can be unlocked as you progress, giving you an extra edge in your quest to pop those balloons.
And don't forget to check out the Bloons Player Pack 2, a pack of levels for Bloons 2 designed by players!
How to Play
Use your mouse pointer to aim your monkey's darts, click and drag for power, and release to throw.