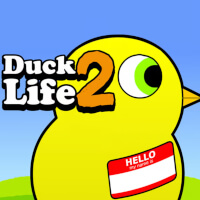 Duck Life 2
Wix Games
Are you ready for more duck-tastic adventures? Welcome to Duck Life 2, the sequel to the original quacktastic adventure game, Duck Life! In the sequel, you'll take your duck to new heights of racing glory. But this time, you'll have to travel around the world and face new challenges and new locations. Train your duck in four skills: running, flying, swimming and climbing to be ready for the ultimate duck race. Earn coins by training or racing fellow ducks. There are five locations for races: Scotland, England, Egypt, Hawaii and Japan. Just make sure your duck has some stamina before the next race by feeding it seeds. And don't forget to spend your hard-earned duck dollars on cool accessories!
But you are not the only one who wants to win. There are many other ducks who have trained hard and are eager to show their skills. You will have to face them in four different events: running, flying, swimming, and climbing. Each event requires a different skill level, and you will have to train your duck accordingly. You can use the coins you earn from racing to buy food, hats, glasses, and other items that will boost your duck's performance and appearance.
As you progress through the game, you will unlock new locations and challenges filled witcolorful graphics, the catchy music, and the humorous dialogue. You will also meet some friendly and helpful characters who will give you tips and advice. But beware of the evil Dr. Quack, who has a sinister plan to sabotage the tournament and take over the world with his army of robotic ducks. You will have to stop him before he ruins everying—that would be a quacktastrophe.
And if you want more duck action, don't forget to check out the third game in the series, Duck Life 3: Evolution, where you can choose your duck's breed and evolve it into different epic forms.
How to Play
Use the arrow keys during minigames to jump, fly, swim, and climb. Use the left mouse to click on menu items and purchase upgrades.