Oops... Looks like you're on mobile or flash is not enabled
We're trying to get some mobile games up and running, but unfortunately our flash games don't work on phone or tablet. How about some hilarious science jokes instead?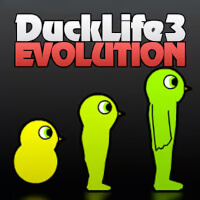 Duck Life 3: Evolution
Wix Games
Are you ready for yet Nother duck-tacular adventure? Welcome to Duck Life 3, the ultimate game for duck lovers. Train your duck to compete and win in various races and challenges across the world. Have fun customizing your duck's appearance and skills with cool hats, outfits and upgrades. But that's not all. Explore different locations and events as you progress in the game, such as the volcano, the tournament and the world championship. But be careful. Face tougher competitors and dangers that will test your duck's abilities.
Duck Life 3 is the third game in the popular Duck Life series, which has been enjoyed by millions of players around the world. The first game, Duck Life, introduced the concept of training your duck in different skills, such as running, swimming and flying. The second game, Duck Life 2, added more skills, such as climbing and jumping, as well as more locations and events. Duck Life 3 takes the series to a whole new level. It has improved graphics, gameplay and features. It also lets you choose from four different duck breeds, each with their own special abilities and quirks. Challenge your friends online and see who has the best duck.
Don't wait any longer. Join the duck craze and play Duck Life 3 today. Can you train your duck to become the champion of the world?
How to Play
Follow the in-game instructions.