Oops... Looks like you're on mobile or flash is not enabled
We're trying to get some mobile games up and running, but unfortunately our flash games don't work on phone or tablet. How about some hilarious science jokes instead?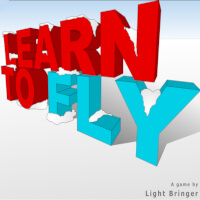 Learn to Fly
Light Bringer Games
It's time to stop waddling, sliding around, and falling, and learn to fly! Help your little 2D penguin buddy cruise through the skies with a little engineering ingenuity (and rockets, lots and lots of rockets).
The original Learn to Fly offers three game modes to choose from: Classic, Arcade, and Story. In Classic mode, you'll have a limited number of days to rack up the highest distance possible. Arcade mode challenges you to fly through rings and avoid obstacles to earn points. Last but not least, in Story mode, you'll complete a series of challenges and unlock new items to help your penguin fly even further.
With a variety of hats and costumes to choose from, you can also customize your penguin to suit your own personal style. As you progress through the game, you'll encounter a wide range of obstacles and challenges that will test your reflexes and flying skills. From dodging trees and avoiding snowballs to collecting power-ups and unlocking new upgrades, "Learn to Fly" is a game that's easy to pick up and hard to put down. So suit up your penguin and let's get flying!
And don't forget to check out the sequels, Learn to Fly 2 and Learn to Fly 3.
How to Play
Use the mouse to click and drag various items onto your penguin while creating your flying contraption. Use the left and right arrow keys to control your angle of flight and press/hold spacebar to activate rockets and special abilities. Collect money for boosters and upgrades by flying longer, faster, and farther and unlocking achievements.