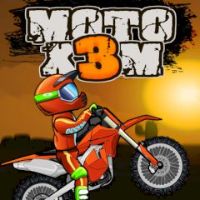 Moto X3M
Get ready to feel the wind in your hair and the rush of adrenaline as you take on the challenging world of tilty motorbike racing. Suit up, strap on your helmet, rev up your engine, and get ready to navigate through the dirt paths, forests, and snow-covered mountains, of Moto X3M, each with their own unique challenges and obstacles. With bravery and skill, you will have to overcome ramps, loops, and hazardous traps as you race towards the finish line.
But beware! The road to victory is not for the faint of heart. Keeping your balance and avoiding falling off your motorbike is crucial as you speed through each level. One wrong move can mean the end of your race! With the arrow keys as your trusty ally, accelerate, brake, or flip your bike to make it through the course as quickly as possible.
There's one more key detail worth mentioning for all you adrenaline junkies out there: the more dangerously you play and the more risky the stunts you perform, the greater you are rewarded. Mid-air tricks are not only encouraged but necessary to shave time off your runs. Front flips, backflips, and other daring moves will not only increase your speed but also get you closer to earning the maximum three stars at the end of each level.
With 22 levels of non-stop action, each level of Moto X3M is faster and more challenging than the last. From giant loops to terrifying drops and moving walls that can crush you with ease, you will face a new challenge with every map. And while speed is a vital component of the game, it's not the only thing that matters. Players will need to control their speed and sometimes even slow down to stay in control of their bike. Smoothness, not speed, will be the key to success in some levels. As you progress through the levels, getting three stars will require skill, timing, and strategy.
How to Play
Press and hold the up arrow key to accelerate and the down arrow key to brake. Use the left and right arrow keys to balance and do tricks in the air to earn time bonuses.