Oops... Looks like you're on mobile or flash is not enabled
We're trying to get some mobile games up and running, but unfortunately our flash games don't work on phone or tablet. How about some hilarious science jokes instead?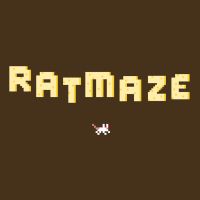 Ratmaze 2
You're hungry and you love cheese—so naturally your job is to collect all the cheese you can, as quickly as you can. Sounds easy, except you're a rat trapped in a huge, pixelated maze.
There's more to Ratmaze 2 than just finding cheese, though. There are also hidden secrets and surprises that will reward your curiosity. Explore the maze and along the way, you can also find bonus letters that will take you to a secret dimension of giant cheeses, apples that will boost your speed, balls that can reveal hidden paths, and more.
Of course, you only have a limited amount of time to complete the maze. You can increase your time by eating cheese crumbs, but you have to be quick and smart. But be careful, some walls are not what they seem, and the timer is still ticking! Use your memory and your wayfinding skills to find the best path to reach every corner of the maze. Can you find all the secrets, complete the maze, and prove you're the big cheese?
How to Play
Use the arrow keys to navigate the maze.