Oops... Looks like you're on mobile or flash is not enabled
We're trying to get some mobile games up and running, but unfortunately our flash games don't work on phone or tablet. How about some hilarious science jokes instead?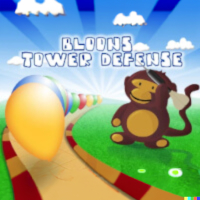 Bloons Tower Defense
Ninja Kiwi
Enter the addictive world of the original Bloons Tower Defense, another addition to the beloved Bloons series! This time, it's not just about popping balloons, but defending your territory from waves of enemy attacks using a variety of tower types and upgrades.
But don't let the cute and colorful visuals fool you! Bloons TD is a game that requires careful planning and strategic thinking. With over 20 maps and 50 levels to master, you'll need to use your wits to outsmart the enemy and come up with the perfect tower defense strategy. Each tower has its own unique strengths and weaknesses, so it's up to you to figure out which ones to use and where to place them.
Bloons TD also features a range of special abilities and upgrades that can be unlocked as you progress, allowing you to unleash powerful attacks and improve your towers' abilities. And with new challenges and updates regularly added to the game, there's always something new to discover in the world of Bloons TD.
How to Play
Use your mouse to click the towers you'd like to build and then click on the area you'd like to place them. Click on the towers you've already built to purchase upgrades.